Hjem
Stikkord
Nordic Frontier
Stikkord: Nordic Frontier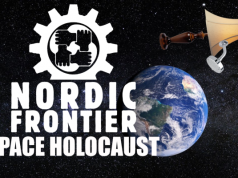 We ring in the New Year with Space Holocaust, Morroccan Knife Wounds and Reflections on the year gone by. This week we celebrate Hanukkah and invite Simon Holmqvist to tell us all about this festival of lights. We'll talk to fellow thought criminal and holocaust skeptic Monika Schaefer and also get the scoop on the Finland demo. This evening we'll talk to Eric Striker, known from Strike&Mike podcast and many other media projects. We'll also cover some Swedish cuckery and fake folkish uprisings. Tonight we talk to Dennis Wise, the man behind the Greatest Story NEVER Told. Tom Goodrich joins us this evening to talk about Hellstorm, other works and his recent stint on the European continent. Neo-Mike also reports on the independence march in Latvia. This is an English translation of an article which deals with the importance of an organized and disciplined resistance. This week we see China going full 1984, Jews crying about Anti-Semitism and the Movement going for Flash Demonstration. This week we remember a man against time. This week we deal with Jordan Peterson destroying Annie Lööf, Jewish massacres and we also invite Norwegian activist Andreas to tell us about this weekend's adventures.